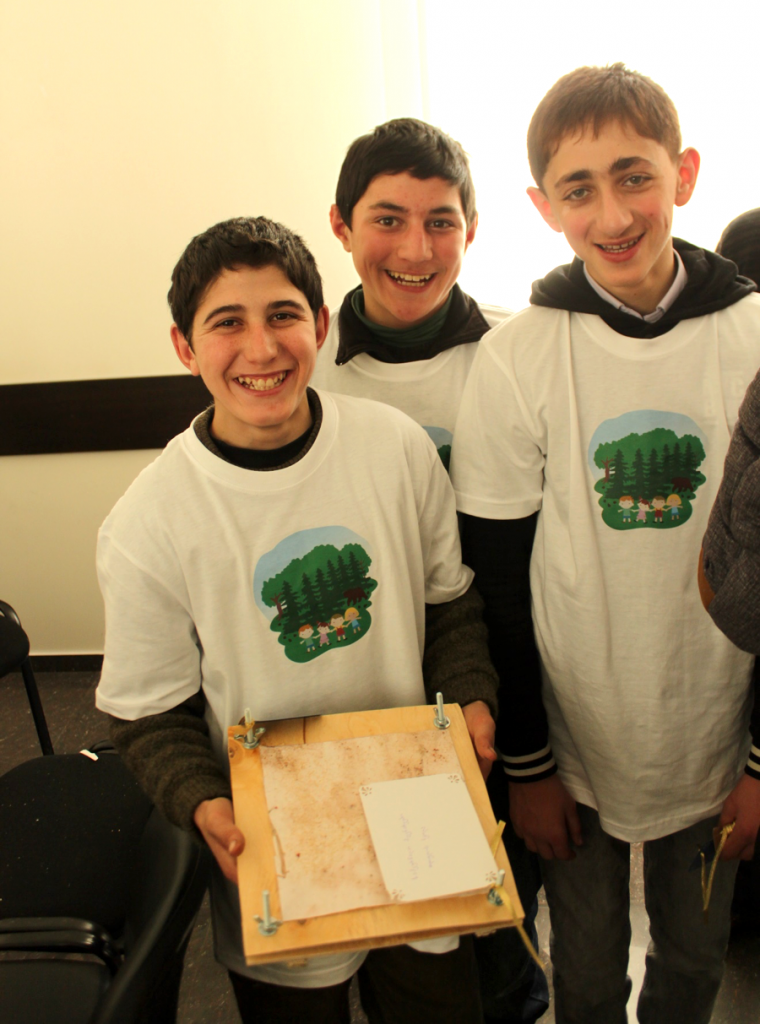 14 years old Tika from village Kvatskhuti dreams to be an English language specialist.
"There is always lack of English language teachers in Ambrolauri, I want to come back in my village after graduating University and I can be an English teacher or an interpreter also, I enjoy networking with foreigners. " –she admits.
Tika thinks that volunteer experience from local eco club will help her in her future career, she hopes to develop her research, presentation and project management skills while promoting environment in her school and region with eco club projects.
WWF Caucasus started a project in Ambrolauri in collaboration with Fair Trees Fund to support non formal environmental education. Initiation training for teachers and Students was conducted in Ambrolauri municipality this weekend in order to establish eco clubs in Tlugi and Cheliagele schools and support existing eco clubs in two schools of Ambrolauri. Participants were trained as the master trainers on environmental issues and eco club management. Newly established eco clubs will join network of more than 1000 schoolkids from 88 different eco clubs.
"Through our cooperation with WWF Caucasus Fair Trees Foundation offers education in protection of forest and environment and by that teach schoolchildren through the eco-clubs-how to find sustainable solutions to use natural resources in the region in benefit to entire cone picker community. Our children are our future, that is why we find is very important to support and promote environmental education and awareness on long terms basis." Sais Marianne Bols, founder of Fair Trees Fund
Eco clubs are environmental youth clubs established in schools, which bring together students, teachers, community representatives and other interested persons and organizations to protect the environment.
Eco clubs actively organize various environmental activities and projects to promote environmental education and awareness. Members are actively involved in environmental protection and sustainable development of community-based programs, and carry out monitoring of environmental programs and promote all initiatives that will contribute to sustainable use of natural resources in the region.
"I was in primary school when eco club was established in our school, I thought I would join it but last time it wasn't so active…
I'm very happy for this opportunity today…I'm really conscious about environment but many people aren't hear because it's really difficult to leave hear in the village with so many daily problems" says Keso Gventsadze participant of the training.
In Summer 2016, eco camp will be organized for most active members of eco clubs, meanwhile they will have to write projects, apply for small grants (in frames of this project) and successfully implement activities.